Triangle Gallery
Available as Prints and Gift Items
Choose from 2 pictures in our Triangle collection for your Wall Art or Photo Gift. All professionally made for Quick Shipping.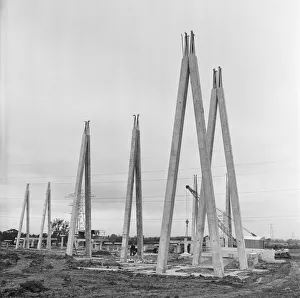 Featured Image
Electricity sub-station construction JLP01_08_050401
Harker Electricity Sub Station, Rockcliffe, Carlisle, Cumbria. A view of concrete cable and switchgear supports erected at the Harker Electricity Sub Station during construction.
Construction of a new sub-station at Harker for the Central Electricity Authority began in January 1957. A casting yard was established in the centre of the site to produce over 650 reinforced concrete units of varying sizes, weights and designs for the project. The Laing newsletter, Team Spirit, described the view of construction at the site as "a modern, unmutilated Stonehenge"
© Historic England Archive. John Laing Photographic Collection