Home > Images Dated > 1919 > 7 > 26


Pictures Dated 26th July 1919
Choose from 2 pictures in our Pictures Dated 26th July 1919 collection for your Wall Art or Photo Gift. Popular choices include Framed Prints, Canvas Prints, Posters and Jigsaw Puzzles. All professionally made for quick delivery.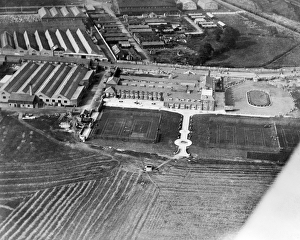 Featured 26 Print
First ever Aerofilms photograph EPW000001
LONDON AERODROME, Hendon. The first ever Aerofilms commercial aerial photograph taken in July 1919 showing the London Country Club (formerly the London Flying Club). The building was later used as Hendon Police College, which opened in 1934. This site had been promoted as London Aerodrome since 1911, and was used in the First World War to train Royal Flying Corps and Royal Naval Air Service pilots. It reopened to civilian use in 1919 and was the venue for flying displays, as well as being the first base for Aerofilms. In 1922 the RAF took over the aerodrome and civilian flights were excluded. Aerofilms Collection (see Links).