Home > Images Dated > 2008 > 2 > 15


Pictures Dated 15th February 2008
Choose from 2 pictures in our Pictures Dated 15th February 2008 collection for your Wall Art or Photo Gift. Popular choices include Framed Prints, Canvas Prints, Posters and Jigsaw Puzzles. All professionally made for quick delivery.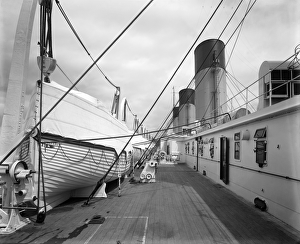 Featured 15 Print
RMS Olympic BL24990_021
RMS OLYMPIC, White Star Line. View of the boat deck, looking aft, showing lifeboats and funnels. The Olympic was the first of a class of luxurious express transatlantic ocean liners, and entered service with the White Star Line in 1911 as the largest cruise liner in the world. Sister ship of the RMS Titanic, she was the only one of the class to prove a success, serving until 1935. After the Titanic sank in 1912, her stokers went on strike until sufficient lifeboats were provided for all passengers and crew. The ship was then refitted and additional safety measures installed. In 1914 the Olympic was requisitioned as a troopship, served in the Gallipoli campaign in 1915, and brought US troops to Europe in 1917. She returned to civilian service in 1920. Photographed by Bedford Lemere, Southampton, October 1921.
© Historic England