Home > Images Dated > 2010 > 6 > 26


Pictures Dated 26th June 2010
Choose from 1 pictures in our Pictures Dated 26th June 2010 collection for your Wall Art or Photo Gift. Popular choices include Framed Prints, Canvas Prints, Posters and Jigsaw Puzzles. All professionally made for quick delivery.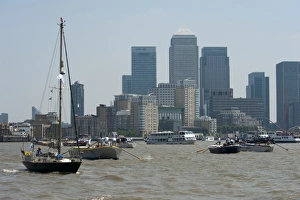 Featured 26 Print
Thames Barge Driving Race DP095299
Played In series: London. The Thames Barge Driving Race was set up in 1975 by a charity called The Transport On Water Association (TOW). The race consists of about 11 teams of between 4 and 8 members who steer and row 30 ton barges over a seven mile course from Greenwich to Westminster Bridge. Considerable skill is needed to pilot unpowered barges 'rowed under oars' or sweeps and ride tidal river currents alone, up river. Lightermen moved freight along the Thames this way up until the 1930s.
© Historic England