Home > Images Dated > 2011 > 8 > 2


Pictures Dated 2nd August 2011
Choose from 1 pictures in our Pictures Dated 2nd August 2011 collection for your Wall Art or Photo Gift. Popular choices include Framed Prints, Canvas Prints, Posters and Jigsaw Puzzles. All professionally made for quick delivery.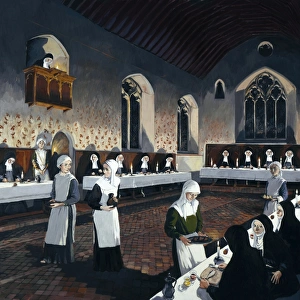 Featured 2 Print
Nuns at Denny Abbey J930289
DENNY ABBEY, Cambridgeshire. Interior view. The refectory in use during the 15th century. Nuns at table being served by novices while the lesson is read from the gallery. Reconstruction drawing by Terry BALL (English Heritage Graphics Team).
© Historic England
Abbey, Convent, Graphic, Illustration, Medieval, Monastic, Nunnery, Religion