Home > Images Dated > 2016 > 1 > 18


Pictures Dated 18th January 2016
Choose from 1 pictures in our Pictures Dated 18th January 2016 collection for your Wall Art or Photo Gift. Popular choices include Framed Prints, Canvas Prints, Posters and Jigsaw Puzzles. All professionally made for quick delivery.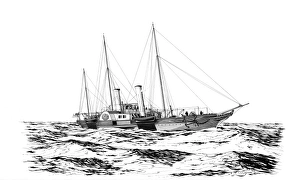 Featured 18 Print
Royal Yacht Alberta IC076/001
A reconstruction drawing of the Royal Yacht Alberta, a 370 ton wooden paddle steamer owned by Queen Victoria and Prince Albert, used largely to cross the Solent whilst the Queen and family were in residence at Osborne House on the Isle of Wight. Illustration by Frank Gardiner, c.1980 - c.1995.