Home > Images Dated > 2017 > 11 > 21


Pictures Dated 21st November 2017
Choose from 1 pictures in our Pictures Dated 21st November 2017 collection for your Wall Art or Photo Gift. Popular choices include Framed Prints, Canvas Prints, Posters and Jigsaw Puzzles. All professionally made for quick delivery.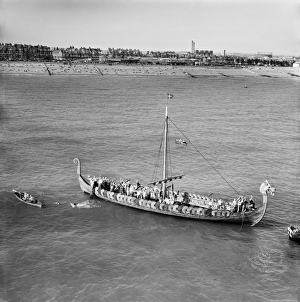 Featured 21 Print
Viking ship EAW026333
The Hugin (a replica of the Viking Gokstad ship) at sea, Eastbourne, East Sussex. A gift from the Danish government to commemorate the 1500th anniversary of the arrival of Hengist and Horsa in England in 449 AD. The Hugin was sailed to England by a crew of 53 Danes. A fine example of experimental archaeology. Photographed by Aerofilms Ltd 5th September 1949.
© Historic England Archive