Home > Images Dated > 2017 > 4 > 5


Pictures Dated 5th April 2017
Choose from 2 pictures in our Pictures Dated 5th April 2017 collection for your Wall Art or Photo Gift. Popular choices include Framed Prints, Canvas Prints, Posters and Jigsaw Puzzles. All professionally made for quick delivery.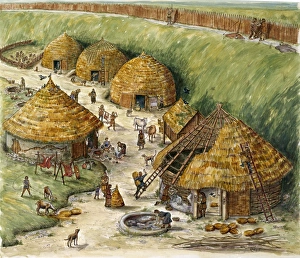 Featured 5 Print
Danebury Hill Fort J920723
DANEBURY HILL FORT, Hampshire. Reconstruction drawing by Karen Guffogg. Celtic Iron Age, approx. 2nd century BC. The round houses in the quarry hollow behind the rampart. Roundhouse.
© Historic England Archive
Fortification, Graphic, Hut, Illustration, Iron Age