Home > Images Dated > 2017 > 1 > 24


Pictures Dated 24th January 2017
Choose from 1 pictures in our Pictures Dated 24th January 2017 collection for your Wall Art or Photo Gift. Popular choices include Framed Prints, Canvas Prints, Posters and Jigsaw Puzzles. All professionally made for quick delivery.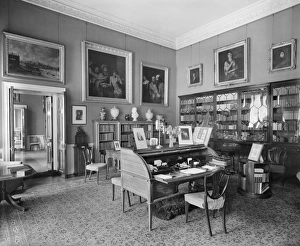 Featured 24 Print
Mr Selfridge's Room, Lansdowne House BL25525
LANSDOWNE HOUSE, Berkeley Square, London. An interior view of Mr Selfridge's Room. Photographed by Bedford Lemere and Company, 1921. At the time of this photograph, Lansdowne House was leased to the American retail entrepreneur Gordon Selfridge, of Selfridge's department store fame. Lansdowne House was the family home of the Marquesses of Lansdowne, but like many London homes of the aristocracy, it proved difficult for the owners to maintain in the harsh British economic climate after the First World War, and prior to a period of it being leased out to occupiers, it was finally sold off and became a gentlemen's and ladies' club.